Bac Nam
1117 King St (by Pensacola)
Yummy Yummy Yummy
There's really nothing else to say about Bac Nam (rated one of Honolulu Magazine's (or some Hawaii publication…I can't remember where I saw it) best meals under $20). It's a no-frills Vietnamese restaurant on King St (near Pensacola).
We arrived around 7 pm on a Friday evening and had to wait about 20 minutes for a table. Unlike Saigon Vietnamese Cuisine (which was packed with Vietnamese) Bac Nam is packed with locals.
The menu is much more extensive than other Vietnamese restaurants I've been to. In addition to pho (only one or two varieties here), stir fries and summer rolls, they have soups, hot pot, several grilled lamb dishes, make your own wraps, steamed rice flour meat rolls, and a bunch of other stuff I can't remember.
We ordered family style (for 4 people) and had the spicy beef soup (I read about it on www.hawaiidiner.com) and had to have it, steamed rice flour meat rolls, bbq chicken bun, and the French beef stew.
The spicy beef soup, while not very spicy at all, was wonderful. A rich fragrant beef broth with bits of red floating in it, spaghetti like noodles, random beef parts, and lots of cilantro and green onions floating in it. It also comes with a plate of basil & bean sprouts to put in the soup. I highly recommend this dish.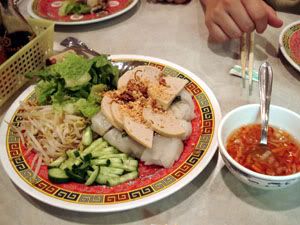 The steamed rice flour meat rolls were interesting as well. It was ground beef seasoned with lots of ginger, garlic, and cooked onions, steamed in mochi-like batter. It arrived as long rolls (similar to look fun) and sprinkled with pickled vegetables and tiny dried shrimps. It's served with sliced lettuce, cucumber, parboiled bean sprouts, and a vinegary sweet chile sauce. Yum!
BBQ chicken bun is cold vermicelli noodles topped with bbq chicken, lettuce, cucumber and served with the same sauce as the rice flour rolls. This dish was just average.
The French beef stew, while a little similar to the spicy beef soup, is a dish I've been meaning to try in the past so I figured I'd get it here. It was watery in comparison to American beef stews but the broth was very tasty. It's normally served with a baguette but they were all out so we had it with rice instead. It was pretty good but a little dull (literally just falling apart stewed beef in an oily soup) so it's not something I'd order by itself.
Bac Nam is BYOB, and the cutest new wine store just opened up across the street (People's Wine or People's Republic of Wine, something like that) so be sure to pick up a bottle before your meal. They also had an awesome selection of specialty beers (Newcastle, Chimay, Sam Cooke and Mehana are the ones that I remember), sold by the bottle for reasonable prices.